Car wrapping takes a lot of skill but turning it into a business requires plenty of more work. Not only should you understand the ins and outs of car wrapping in general but you need to know all about business and what it takes to create your own. 
In this article, we will be taking you through the steps to success, showing just how easy starting a car wrapping business can be.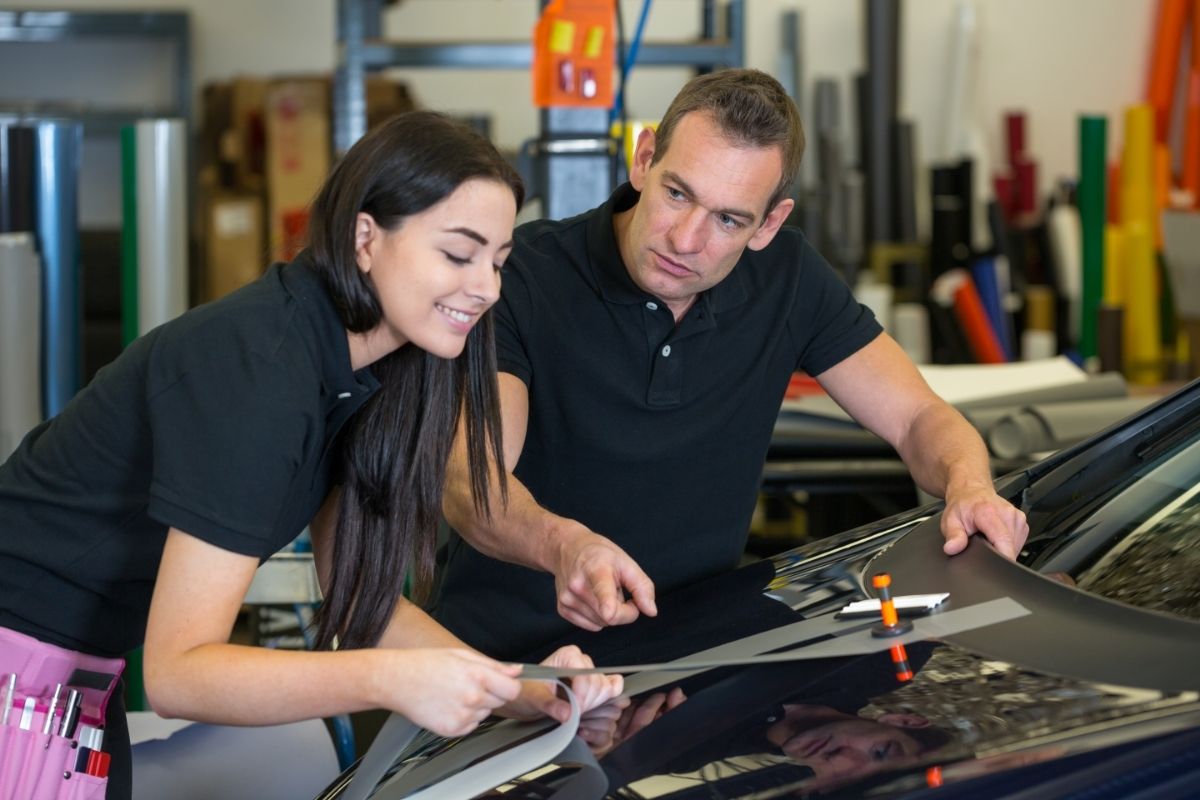 What Is Car Wrapping?
Car wrapping is the process of applying vinyl or other materials to cars. This is done for many reasons, including personal style, advertising, and protection from weather damage.
The most common type of car wrap is vinyl, which comes in different colors and patterns. Vinyl wraps are applied using heat guns, sprayers, rollers, and hand tools.
They come in various thicknesses, ranging from thin to thick. When choosing a material for your car, keep in mind that thicker vinyls tend to be heavier than thinner ones.
How Much Does Car Wrapping Cost?
The cost of car wrapping depends on several factors, such as where you live, the size and condition of your vehicle, and the type of vinyl used. Some companies charge per hour while others charge by the square foot.
You can also find deals with multiple-use packages. For example, if you buy an entire package of vinyl at once, you might get a discount. However, there may be extra charges for installation.
What Are The Benefits Of Car Wrapping?
There are many benefits to having your car wrapped.
First, it helps protect your vehicle from the elements. If you drive around town during bad weather, you probably notice that some vehicles have been damaged by rain, snow, sleet, hail, or any other element.
Wraps help prevent these types of damages because they provide additional protection against the elements.
Second, they add value to your vehicle. Many people purchase a new vehicle every few years. Wraps make your current vehicle look like a brand-new one.
Third, they give your vehicle a unique appearance. People who see your car will immediately recognize its uniqueness.
What Are The Steps To Starting A Successful Business?
Starting a successful business is not as hard as it seems. There are five main steps to starting a successful car wrapping business:
1. Researching Your Market
Before you start your business, you must first research your market. What kind of customers do you want to attract? Do you want to target a specific demographic?
How much money do you expect to earn each month? These questions will help determine whether or not you should pursue this business idea.
2. Creating a Brand Identity
Once you've determined the answers to the above questions, you can begin developing a brand identity. A brand identity is the overall image that your company projects. It includes everything from logo design to website creation.
3. Developing a Marketing Plan
After creating a brand identity, you can develop a marketing plan. This plan will outline exactly what you'll do to promote your business.
4. Setting Up Shop
Now that you have developed a brand identity and a marketing plan, you can set up shop. This means setting up your office space, hiring employees, purchasing equipment, and so forth.
5. Promoting Yourself
Finally, you need to promote yourself. This involves spreading the word about your business through social media sites, networking events, and more.
Risks Of Starting A Business
While starting a business is relatively easy, it does carry risks. Here are some major risks you should consider before starting your own car wrapping business:
Competition
There are already thousands of businesses offering similar services, therefore competition is high. This makes it difficult to stand out in the crowd.
Time Commitment
Running a business requires time and effort. You must devote enough time to your business to ensure success.
Money
While starting a business is relatively inexpensive, it may be expensive if you fail. In addition, you may lose money if you don't generate enough revenue.
Can You Make Good Money Wrapping Cars?
Yes! As long as you follow the tips listed above, you can make good money wrapping cars. However, there are two things you must remember when pursuing this career path:
First, you must love working with your hands. Car wrapping takes a lot of physical labor. You must spend hours on end bending over, stretching, lifting heavy objects, and so forth.
While most professionals enjoy this type of work, some individuals find it physically demanding. If you aren't comfortable doing this type of work, then you shouldn't pursue this career path.
Second, you must be willing to put in extra hours. Car wrapping isn't an overnight process. You must invest a significant amount of time into learning how to wrap cars professionally.
Once you master the art of wrapping, you can continue to grow your business by investing additional time into improving your skills.
How Much Does Car Wrapping Pay?
The average income for car wrappers varies depending on location. For example, you will find that someone may have an annual salary of around $30,000 whilst with others it can be as much as $60,000.
You can expect to earn anywhere between these figures. The best way to determine how much you can earn is to research local salaries. Then, use those numbers to calculate your hourly wage.
How Long Does It Take To Start A Business?
It depends on the size of your business and the number of people you employ. Some small businesses take only a few weeks while larger companies may take months or even years to establish. 
Do I Need Any Licenses Or Permits?
You won't need any licenses or permits to start a car wrapping business. But despite this, this doesn't mean that you are not allowed to get a certificate if you choose to.
These certificates can be obtained through attending specific classes for wrapping classes and are useful when it comes to marketing yourself as a well-trusted company. Customers will like it if you have a certificate as it shows you are professionally skilled in the field and can be trusted.
Final Thoughts
Starting a car wrapping business is not as hard as many people think. There are several steps you can take to get started. As long as you know of these steps and have the drive you need to start a business, nothing will get in your way.