A vinyl wrap for your car can make your vehicle look individual. The traditional vinyl wrap comes in various colors and designs.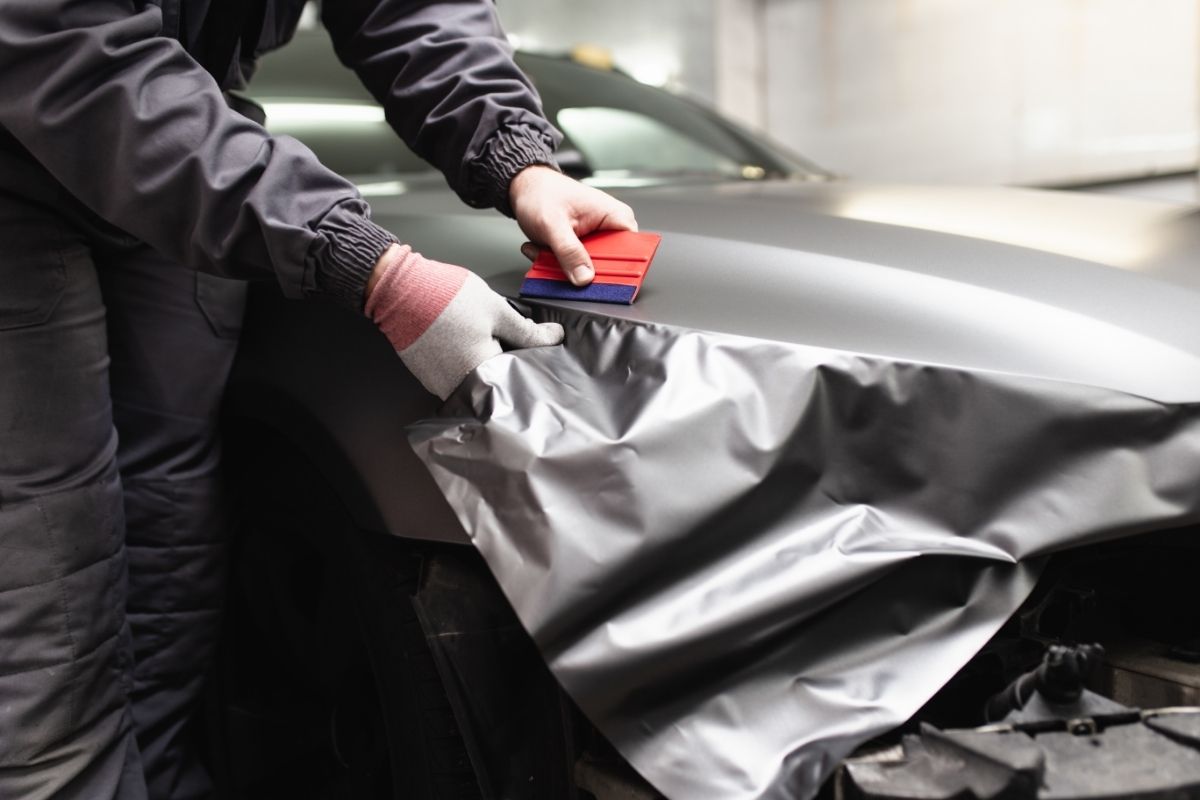 Vinyl wraps are durable materials that can last for years. They are usually applied over the top of existing paint jobs, and they are designed to withstand extreme temperatures and weather conditions.
However, even vinyl car wraps have an expiry date. Depending on the quality of the wrap, you can expect your car wrap to last around 7 years.
For your wrap to last longer, it's important to maintain the vinyl wrap properly and protect it.
In this article, we'll find out how to keep your vinyl car wrap looking great for a long time.
Why Should You Protect Your Vinyl Car Wrap?
The first reason why you should protect your vinyl car wrap is that it will help preserve its original appearance.
Protecting your vinyl car wrap from scratches and other damages will prevent fading and discoloration. It will also ensure that the vinyl car wrap remains smooth and shiny.
In addition, protecting your car wrap will also make it last for longer.
How To Protect Your Vinyl Car Wrap
If you want to preserve the original design and color of your vinyl car cover, then protecting it is very important.
You can do this by applying a protective coating. There are several ways to apply a protective coat to your vinyl car wrap.
Carnauba Wax
This wax is ideal for protecting your vinyl car wrap from UV rays. It's the easiest to apply and very popular with DIY car wrappers.
Carnauba wax is typically available as a liquid or as a paste wax. They both work in the same way. You need to apply the wax as stated on the back of the product, allow it to dry, and then buff it off with a microfiber towel.
You need to let the wax cure for a while. It will then provide an excellent protective layer against UV light.
Carnauba wax usually lasts for a few months. After that, you will need to re-apply the wax.
Paint Protection Film
A paint protection film is another option for protecting your vinyl car cover. These films come in different thicknesses and are made from polyester resin.
They are used to protect your car wrap from minor damage such as small chips and dings.
When using a paint protection film, it's recommended that you use a clear acrylic paint sealant after application. This will help protect the film from water and dirt.
Sealants are available in several types, including:
Acrylic sealants
Polyurethane sealants
Silicone sealants
These sealants are easy to apply and can be removed easily when needed. However, they don't offer any UV protection.
Nano Ceramic Coating
The best of these protection layers is a professional nano-ceramic coating. This is specifically designed to protect the vinyl.
It's best to get a professional to apply this coating as it requires special equipment and expert skills.
The Best Ways To Care For Your Car Wrap
In addition to a protective layer, you can also help make your vinyl wrap last for longer with a few handy tips.
For example, protecting your vinyl car wrap from UV rays and other harmful elements helps prevent fading and discoloration.
There are many ways of protecting your vinyl car wrap, so let's take a look at some of the best ways to care for your vehicle wrap.
Protect Your Car Wrap From The Sun
UV rays from sunlight are not just harmful to the human skin but they can also damage the color and finish of your vinyl car wrap.
This is similar to an original paint job, as the paint will fade in the sunlight over time.
To avoid this problem, you should never leave your car in direct sunlight. Make sure that it is parked in a temperature-controlled garage or under a sheltered carport.
Clean Your Wrapped Car Regularly
Cleaning your wrapped car regularly is a big factor when it comes to protecting the vinyl wrap. Environmental pollutants, such as tree sap, bird droppings, bug splatter, and pollen can damage the surface of the wrap.
When it comes to cleaning your vinyl car wrap, you need to use soapy water.
Make sure that you do not get any harsh chemicals near your wrapped car. Instead, you should use a soft cloth dipped in warm water and mild soap.
A good cleaner will be able to remove dirt and grime from the surface of your wrapped car. When using any cleaners and towels, make sure that you apply them gently.
You should also try to avoid using abrasive products like brushes. These can scratch the surface of your vinyl car wrap and cause permanent damage.
Although you can use pressure washing on your vinyl-wrapped car, you should ensure that you wash the surface at a 90-degree angle, and do not exceed a water pressure of 2,000 psi.
You can also take your wrapped car for automatic car washes. However, it is best to use brushless car washes to ensure that there is no chance of damaging the surface of your vinyl wrap.
Whatever cleaning method you use for your wrap, make sure that the surface is properly dried. You can do this by using a microfiber cloth.
Remove Oil Or Gas Spills Immediately
Oil spills can ruin the finish of your vinyl car wraps. If you notice oil stains on your car wrap, you should immediately wipe off the spillage with a lot of water and wet paper towels.
Once you wiped the spill, you should also handwash the area as gas and oil can stain the vinyl very easily.
Conclusion
Vinyl car wraps have become more popular than ever before. They offer a unique style and design that cannot be found anywhere else.
However, they come with their own set of problems. One of these problems is the fact that they can be damaged by environmental factors.
If you want to protect your vinyl car wrap from all these issues, then you should follow the above tips.