Wrapping your car is a popular choice for many different reasons. If you're not happy with the color or appearance of your car, you might be wondering: How long does it take to wrap a car?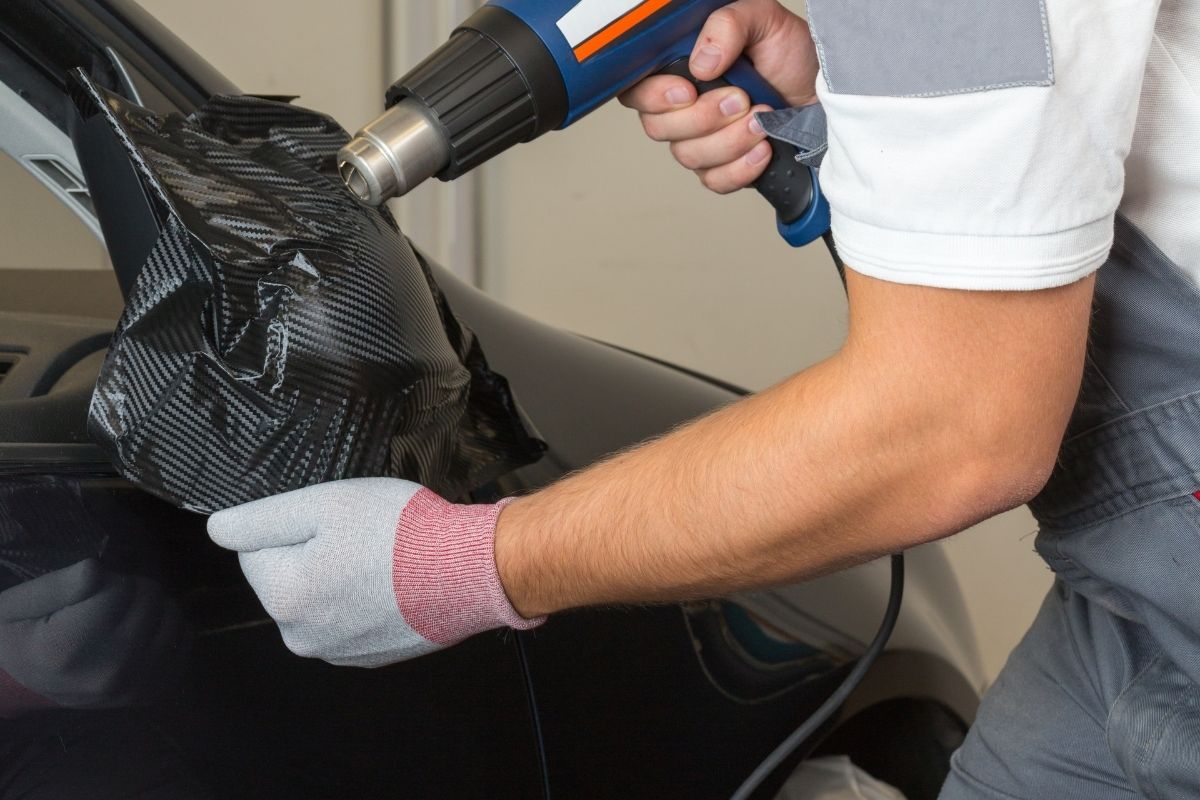 In this article, I will cover some key information about wrapping a car, including how long it takes to wrap a car.
Keep reading to find out more.
What Is Wrapping A Car?
Wrapping a car is a process in which the exterior surface of a car or vehicle is covered by vinyl film.
This can be done for many reasons, such as changing the look of a car, adding a protective layer to the car, or even advertising a brand or business.
How Long Does It Take To Wrap A Car?
The answer to this question depends on the complexity of the car that is being wrapped and the wrap itself.
That being said, a car can be wrapped as quickly as 2 days' time for a full wrap if you choose the right company and a simple wrap. This time allows the vinyl to fully adhere to the vehicle.
However, while a simple car wrap can be completed within a day or two, a complex wrap could take as long as 2 weeks provided that you have a clear idea of what you want.
To get a more accurate time frame, you will need to contact the professional wrapping service company to find out how quickly they can work.
This is particularly important to find out if you know that you're going to need your car, as you won't be able to use your car whilst it is in the shop getting wrapped.
Make sure that you research and search around for the best company to go with, making sure that you check out the company's reviews and photos of their previous wraps. This will ensure that you're going for a reliable company that will do a good job.
The length of time it takes to wrap a car also depends on the size and type of vehicle, as well as the skill level of the person doing the work.
You'll want to make sure that you have enough time to complete the project before you begin wrapping your car.
How Much Does Wrapping A Car Cost?
There are several factors that determine the cost of wrapping a car. These include the amount of time needed to complete the task, the materials used, and the number of people involved.
One thing to keep in mind is that the price of wrapping a car will vary depending on the location where you live, and the supplier that you go for. However, finding a good quality supplier is essential to the success and lifespan of your wrap.
That being said, you can expect to pay $2,200 – $5,000 for a basic package when having your car professionally wrapped. However, this can vary significantly depending on the package that you opt for.
To get a better idea of exact costs, you will need to consult the company that you're interested in using. Make sure that you do your research to ensure that you're getting the best price for the look that you want. 
What Happens During The Wrap Process?
Although every business has their own way of doing things, there are a few steps to the wrap process. Generally you can expect:
Drop Off
First, you will need to drop off your car to the shop. When you're there dropping off your car, the supplier will take some time to finalize the documentation with you.
Inspection 
Following this, the wrap supplier will need to inspect the car to ensure that it's clean and whether there are any damages they should be aware of.
If your car is particularly dirty, then the process can take longer as they will need to wash your car before it can be wrapped.
In addition to this, if you've failed to mention any scratches or damage, this can add to the overall length of time it takes to complete the finished wrap.
Wrap Application Process
Once the inspection has been carried out, it's time for the wrap application. The team will begin applying the vinyl of your choice, as well as the laminate, to your car.
The wrap application process requires expert precision to ensure that the edges line up. They will also use heated tools to ensure that the vinyl and the vehicle panels seamlessly bond together.
Bonding Process
Once the car has been wrapped, your car will need to be left for a period of time to ensure that the bond is secure.   
Final Inspection 
Once the car has been left (typically overnight) a final check will be made of the entire car. The final inspection is to ensure that the vinyl has bonded correctly before you come to pick up your car.
Collection
Last, but by no means least, it's time for you to collect your newly wrapped car!
How To Prepare Your Car For An Efficient Wrap
There are a few things that you can do beforehand to prepare your car for an efficient wrap. This can help to speed the process up.
Clean Your Vehicle Thoroughly Beforehand
Before you drop your vehicle off, you will want to make sure that you have thoroughly cleaned any dirt off your car. This is important, as a dusty or dirty car can affect the lifespan of the wrap.
Don't Apply Wax
Wax will need to be completely removed before a car is able to be wrapped, meaning this will slow down the entire process.
As a result, you could end up adding a significant chunk of time to the overall wrap process if your car has recently been waxed.
Check The Car For Scratches Or Any Rust Spots
It's important to inspect your car for any scratches or rust spots and inform the supplier beforehand.
This is because wraps can cause paint damage if you're not careful, as vinyl wraps stick to the grooves of deep scratches as well as rust spots.
To prevent this from happening, always check your car for scratches and make note of any damage.
In Summary
Wrapping a car can take from 2 days to 2 weeks depending on the service that you go for. I hope this article has given you a better idea of how long it takes to wrap your car.
Good luck wrapping your car!